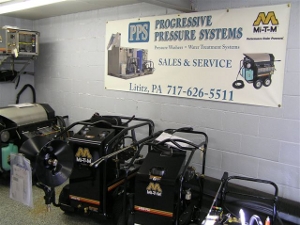 Sales: We sell various brands of pressure washers, water recyclers, sprayers, and custom units. See our online product catalog for more information.
Repair: We service all brands of pressure cleaning equipment, both in-house and on-site. Our fully-equipped radio-dispatched trucks are ready to serve your needs. To schedule a repair, call us at (717) 626-5511.
Parts: We stock General, Giant, and Cat pump parts, as well as parts for equipment sold at PPS.
Accessories: We have a full line of pressure washer accessories including guns, hoses, lances, soap injectors, quick couplers, reels, cleaning detergents and more. Check out the accessories section of our product catalog for more info on the types of products we provide.